-This was a 4 day work week but good-God,
it felt like forever.
-The weather this week has been COLD. In the low 40's. We've had insane amounts of rain. The other day at bus duty we had flurries!
[To all you Floridians and others in 90 degree weather right now...I'm not sure which is worse.]
-Best/Worst Comment from a student this week:
3rd Grade Boy:

"Mrs. B I think you're really pretty."


Me:

"Aww, thanks buddy."




[3rd Grade Boy just realized whole class heard him. Embarrassing.]


3rd Grade Boy:

"But...uh...I think all girls are pretty!"



daaaannnng.

harsh.
-My little nephew, Jayden turned 2 today! I love that boy, and cannot believe how fast the time went. Spongebob themed birthday party tomorrow...hooray for
"Bobby"
as Jayden kindly refers to his favorite character.
-This week, Declan and I got paid on the same exact day, and I think that's just plain awesome. Woohoo double paychecks.
[I get paid on the 15th and last of the month, Declan is always bi-weekly on a Thursday...sometimes, when the stars align, it falls on the same day.]
-I have completed 11 weeks of pregnancy tomorrow.
HELLO
--I am entering week 12. How amazing is that? I cannot wait to say bye-bye to the first tri-mester...
so close.
Enter: Photos
4 weeks and then 11 weeks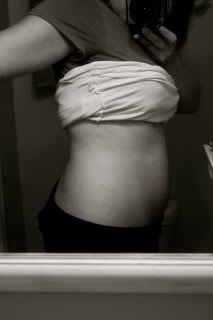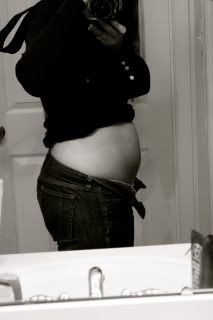 ...and please...I realize I'm not the smallest girl in the world as it is. Call it fat, call it bloat, whatever it is--there's a difference.
-I cooked dinner for the
first time
in a few months
(I know, I seriously suck)
last night. I think Declan's jaw dropped when he walked up the steps and saw me at the stove. I guess this means I felt pretty good and less nauseas/sick then normal--
or that I just felt like a crappy wife lately.
-I am d.e.t.e.r.m.i.n.e.d not to get h1n1/swine flu--and literally disinfected and sanitized my hands
25 times today
...and now..
they are so dry
.
Dry hands over death works for me any day.
PS: Swine flu and pregnancy do-not-mix in case you didn't know.
-I am going to hear the baby's heartbeat again on Monday. If everything goes as planned and we can pick up that
sweet, sweet sound
on the doppler--then, I will be letting my news out to the world.
-I'm having a date night with my man tonight....!! We've spent the last 4 or 5 Friday nights in, doing nothing other then watching DVR'ed shows and ordering dinner
(because I've felt like poo)
, but tonight--I'm ready to go out.
hallelujah.
Happy Weekend!