I do not feel huge at only 12 weeks. It is not only in my head.
[Although, I know there definitely is a bit of a bump there.]
I will not look back in a few months and go, "I was so small!"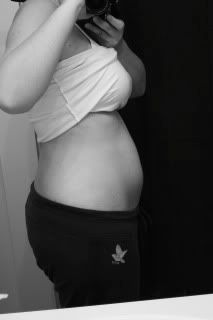 I did not wake up on Saturday morning and hit the magical 12 weeks, thinking this will be the day my nausea leaves me. I was not thoroughly disappointed when, indeed, it was still there—and hit again in full force Sunday night when I was hugging the porcelain throne.

I did not have a super time with friends
(most of which who actually happen to be family, too—they double as friends AND family)
on Saturday night, eating Chili's 3 for 20 meals, carving pumpkins, and eating my homemade delicious apple pie.
I did not forget that I need to post the winner of the Zambian Earrings for those of you who donated to a great cause
[The mattress fundraiser.]
I will not post the winner tomorrow. Stay tuned...
I did not absolutely love that Sunday was sunny and gorgeous. We did not eat outside at a restaurant with one of those heater thingies blowing over us, pretending it was still summer. No, not us.

I did not go to bed at 9:07pm last night because
'gahhh another weeeeeek of schoooool!
'. I also did not whine. That is so not me.
I did not get an awesome award I've never received before from LucieP. I am not grateful
(I totally am!)
. I am not going to do this right.this.very.minute.
Thank you Lucie, dear!

Rules
1. You Can Only Use One Word!
2. Pass this along to 6 of your favorite bloggers!
3. Alert them that you have given them this award!
4. Have Fun!
The Fun Part
1. Where is your cell phone? table
2. Your hair? Drab (what? I need highlights! Crap…one word…I fail.)
3. Your mother? lovely
4. Your father? Hard-working
5. Your favorite food? Mexican
6. Your dream last night? Scary
7. Your favorite drink? Dr.Pepper
8. Your dream/goal? SAHM
9. What room are you in? LR
10. Your hobby? blogging
11. Your fear? Teaching forever (gosh, I'm horrible!)
12. Where do you want to be in 6 years? Kidsssss!
13. Where were you last night? Sleep
14. Something that you aren't? Neat Freak
15. Muffins? ChocolateChip
16. Wish list item? SAHM (wish it were that easy!)
17. Where did you grow up? PA
18. Last thing you did? Talk
19. What are you wearing? White
20. Your TV? Off
21. Your pets? Mac
22. Friends? Family
23. Your life? Happy
24. Your mood? Decent
25. Missing someone? No
26. Vehicle? Escape
27. Something you're not wearing? Eyeliner (dang dog ATE it.)
28. Your favorite store? Target
29. Your favorite color? Hmmm
30. When was the last time you laughed? Today
31. Last time you cried? Yesterday
32. Your best friend? Sisters
33. One place that I go to over and over? School
34. One person who emails me regularly? Chrissy
35. Favorite place to eat? Too many!
I am passing this on to all of you--
because I love you.
I mean, "
I do not love you"
. [Must fit with the not-me-theme.]
xoxo