After my OB appointment yesterday...I figured...what the heck.
I will not be doing this weekly, but I figured at least a few times I will.


How far along?
15 weeks, 4 days. Hooray for being in week 16.
Total weight gain:
As of my appointment yesterday, I've gained exactly zero pounds. I had lost one, then gained it back. According to my weight from previous pregnancy, however, I'm still under. That won't last long, though.
Maternity clothes?
Jeans, yes. Still getting by with work pants using a belly band (which you all know I loathe). I can't really get away with it for long. Shirts...pretty much all my normal tops.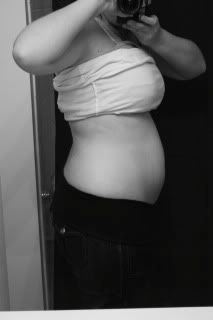 Sleep:
It's going. I get a very sore, achey back when I sleep which is no fun. I have trouble sleeping in. I am waking up SHOCKED on days when I didn't get up to pee! It's amazing. Much better then the 1st trimester.
Best moment this week:
Hearing Baby B's heartbeat yesterday. It was in the 150's.
Movement:
Nothing recognizable yet. I'm waiting to feel the so called "bubble" sensation. I think it will be a few more weeks. I don't like to make up anything in my head, therefore, when I know,
I'll KNOW
.
You know?
;)
Gender:
Only a few more weeks....and I can't wait.
Labor Signs:
Umm? No. That would be very, very bad.
Belly Button in or out?
No changes, although I dreamed about belly buttons last night. It was really weird now that I think about it.
What I miss
: Hormones not getting the best of my skin. I also miss just feeling normal and good. It has been over 12 weeks now that I've felt bad...so, I'm ready for that to end.
Weekly Wisdom:
I'm just enjoying my time with my husband...just us. Things are going to change, and we know that. But, we'll embrace all that. For now, though--we'll enjoy being just the two of us with a little person in the belly.
Milestones:
So far? Getting out of the 1st trimester....hearing Baby B's heartbeat a few times....scheduling my 20 week gender ultrasound ;)