We did not get into bed at 8:45pm on a Friday night. That's seriously something an 80 year old couple would do. We were not that exhausted from a long week.

My belly did not grow or change shape this week. It is not more round now. I am not secretly excited to have a little somethin'-somethin', but still waiting for my time to "pop".
Last weeks.............................this weeks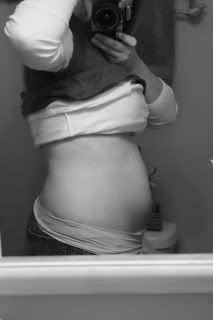 I did not get through an entire day with no anti-nausea meds and ZERO puking on Friday. I was not ecstatic and think that I.AM.FINALLY.FREE! I was not quickly reminded the next day
(bright and early, and then later again after dinner)
that indeed,
I am not in the clear yet.
I did not get overly excited about maternity-clothes shopping and proclaim,
"This is so much better than any other type of shopping!! Everything fits the first time!"
(Thank you elastic and stretch waists, etc.)
I did not get to take home
everything
I tried on and liked because my mother is oh-so-generous and wanted to bless me.
[Love you, momma!]

I did not rejoice with Declan for scoring Eagles tickets. I was not thrilled he got this opportunity to go to the Eagles vs. Cowboys (boo!) game. He was not stoked all Saturay night, and he did not repeatedly say,
"I'm going an EAGLES game!!"
I did not make him snap a quick picture to document this day. I did not act like a mother on the first day of school for a kindergartener.
I did not get motivated from
this post
and put away all that dreaded laundry. I do not feel good about finally being able to walk in my bedroom without tripping over bra's and underwear.
I did not cry, no,
bawl
my eyes out when I read
that post
to Declan in the car on Sunday on our way home from church.
I did not get filled with more emotion
(can we say hormones?)
when I read your comments. [Thank you dear friends.]
I was not terribly disappointed when I found out the health care bill passed at the first level. I do not think it's the dumbest thing ever and will quite possibly ruin us, and let elderly people die because,
"they've lived a good life
". I am not
disgusted
with this philosophy.
I did not get the phone number of one of my
best blogging friends ever
and we did not text message each other. I was not over-the-moon about this. :)
I do not wish this week was a 4 day work week.
I do not dread Monday's.

(to participate in Not-Me Mondays, please check out McMama's blog)