How far along? 25 weeks (time flies...)

Total weight gain: At my appointment last Wednesday it was 4lbs total. I'm thinking I'm at the pound a week part (and I've been eating MUCH better)...so, I'm gonna go ahead and say 5/6 or so. But, I haven't been on the scale.

Maternity clothes? Still dread most of the shirts. Loving the jeans as usual.

The bump.
I think I'm starting to make people second guess when I'm due. I'm not sure, I can't read their reactions--but when I say I'm due May 8th, they sort of get this look of panic. Am I huge?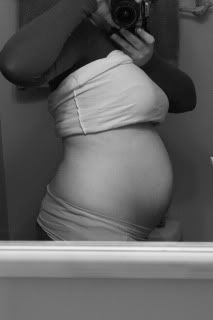 Sleep:
I sleep well for the most part. I start off on my right side for about half the night, and then switch over to my left when I realize how SORE my side is from sleeping in that position for too long. I also have to tuck a fleece blanket under my belly for support. So far, I'm not a fan of a body pillow. Also? I still get through the night without peeing.
Cravings:
Hm. Well, umm...yesterday I craved (
oh gosh, I'm gonna say it...
) McDonalds Fries. So, after school, guess what my snack was? I felt like such a fatty, but also thought--heck...
when else can you get away with this?!
Honestly. So, it's alright. I tend to only crave good things like salad, oranges, etc...so this time can slide, right? Pretty please...
Best moment this week:
Sitting in bed with my laptop, seeing my belly JUMP--then, I'll pull my shirt up and watch the show. It literally looks like she's putting on a dance routine in there, I love it. Also--last week reaching the point of viability and God forbid something happening, my little love could survive. That's kind of a breathe-easy feeling.
Movement:
ALWAYS between the hours of 4pm-midnight. Why? Because I'm usually not moving around too much. When I'm at school, I'm too busy to notice--and also, I think all the noise of the kids, the walking I do, and hearing my chattery teacher voice all day puts her to sleep. :)
Gender:
girl girl girl girl girl
(can you tell I love writing it?!)
Labor Signs:
No thanks! I'll take labor signs as early as 37-38 weeks, but not now. K, thanks.
Belly Button in or out?
Declan made a comment recently that its popping out, and umm..it's totally not. I'll add a frontal picture this week, and lucky you-get to see me in all my wideness! Are you ready for the creepy frontal picture? (I find them odd...a bit...)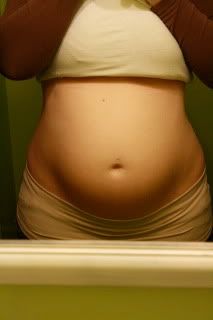 (gotta love the belly ring hole....kids, I'm an example of "think about the future" when getting your navel pierced, haha.)
What I miss
: Getting up out of bed easily because sadly, this is already slightly an issue.
Weekly Wisdom:
Relax. God's timing is perfect, in all things.
Milestones:
The point of viability, and working more on the nursery.
Favorite Moments:
When my husband told me that he thinks pregnancy is sexy, because, uhh...I feel like a whale-but, it made me feel good.