How far along? 34 weeks

Total weight gain: Just had an appointment yesterday afternoon, and I now have gained a whopping 20lbs total.
Maternity clothes? Yep, yep and yep. Maternity tops fit me rather well these days, too. I'm also a fan still of the open non-maternity tops over a tank or another tee.

34 week bump.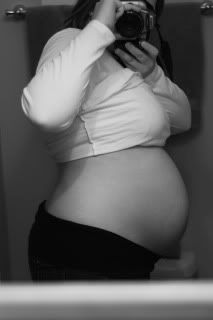 Sleep:
Good actually! For some reason I have been turning a million times in the night, which is annoying. I also have just recently (past 3 days) started getting up one time to pee in the middle of the night.


Cravings:
I don't have strong cravings...but this past week I've been eating lots of fruit-pineapples, mainly. I pretty much like everything.
Best moment this week:
Hearing her little heartbeat again, I love that sound! It's in the 130's now.
Movement:
Yup. Her butt wiggles all the time and it makes huge, visible thuds often. Also, you can feel her hiccups from the outside, its amusing. I am getting lots of big, odd, movements.
Gender:
My little sweets.
Labor Signs:
Not exactly.
Belly Button in or out?
In-well, err...flat.
What I miss
: being able to walk fast. I honestly used to walk fast ALL the time...through the mall, through the grocery store, down the street. Now, its just not possible. Also? I really do miss bending over easily to reach and pick something up, etc.
Weekly Wisdom:
It will all work out, it will all work out.
Milestones:
Umm.
.yea.
NEXT week is the
first week
in April. My baby is due the
FIRST week
in May.
HOLY c.r.a.p!
Favorite Moments:
My 1st grade boy saying yesterday,
"I'm so happy you're having a baby. I hope she's really pretty."
I chuckled and said,
"Me too! :)"
Hehehe...
A clothed 34 week shot...


Hallelujah, Friday!