I think because things are changing so much in these last weeks, I may start posting these weekly. That is, if I remember.
~*~
How far along? 32 weeks
Total weight gain: 16 lbs
Maternity clothes? Um, yes. Again, though-I don't wear many maternity tops.

The belly: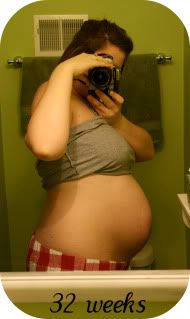 Sleep:
Doing really well up until Thursday night. I fell asleep then woke up at 3:30am wide awake because a certain little girl was kicking the crap out of me, getting hiccups, and jolting my insides. It was maybe the first time that I just wanted a break. I was sooo tired. Luckily, she calmed down and I fell back asleep an hour and a half later. Still getting through 99.9% of the nights without peeing. Crazy,
I know.


Cravings:
Swedish Fish, English muffins with peanut butter, apples, honey nut cheerios. [None of which are severe cravings...just things I like.]
Best moment this week:
My
baby shower
last weekend was so very special. Also, having Jennie and Breck come into town to be with me. Hearing her heartbeat again, and measuring exactly 32 weeks at my appointment.
Movement:
More like crazy karate skills. She is seriously getting
so big,
the movements are just insanely different then those beginning cute little kicks. They jolt my entire belly now and I can literally feel her limbs, and know exactly how she is positioned. Its crazy! Oh, and hiccups.
Galore.
This poor girl gets them at least 2 times a day. For the record, she is head down--verrry head down...so, hiccups with the positioning of her head equals a very
AWKWARD
combination. Enough said.
Gender:
lady bits
Labor Signs:
Just the good old BH contractions.
Belly Button in or out?
In, and flat. Weird.
Enter "Creepy Frontal Picture" time: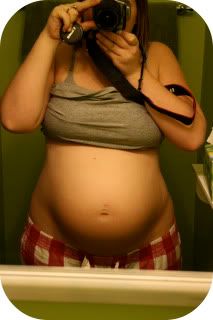 What I miss
: My wardrobe of other clothes. I really do miss them. There are a lot of things I can still wear
(open cardigans, tanks, etc
)--but, there are some things that I just miss wearing.
Weekly Wisdom:
Stress isn't good for you OR the baby. I've felt too stressed lately and need to just calm down. Maybe I should practice some of those relaxation tips from our childbirth class? haha. perhaps.
Milestones:
Thus starts the "7 weeks and X days" left count. It all seems so soon. Wowza.
Favorite Moments:
Praying over her in my belly. Sitting in the nursery just soaking it all in. When Declan told me that he would be on primary Mac duty for the rest of the pregnancy
(getting up to take him out in the morning)
, because he realizes it's getting harder for me.
Love that man.
Hope you're enjoying your Saturday...!