This is where I'll be today...my playground.
Wanna link up?
1. Take a picture of your Saturday Morning Scene.
2. Blog about it.
3. Grab the button and add it to your post.
4. Add your (direct) link to the linky at the bottom.
5. Jump around and see what everyone's up to!
***
(Links that do not go to SMS will be deleted.)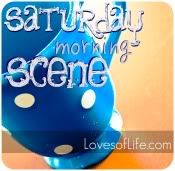 (Having trouble grabbing the button? Try highlighting the link, using "ctrl C" to copy & "ctrl V" to paste.)

***