This is Mac's morning spot. And mid-morning spot. And afternoon-spot. And, well....his spot.
This is her pretending that "uh oh!" , she dropped the cheerios by mistake. (NOT.)
Why yes. We watch morning cartoons in this house. :)
***
Wanna link up?
1. Take a picture of your Saturday Morning Scene.
3. Grab the button and add it to your post.
4. Add your (direct) link to the linky at the bottom.
5. Jump around and see what everyone's up to!
(Links that do not go to SMS will be deleted.)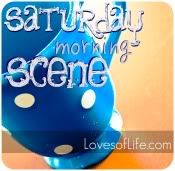 (Having trouble grabbing the button? Try highlighting the link, using "ctrl C" to copy & "ctrl V" to paste.)
**
Psst: I know I haven't been super consistent with this linkup the last few weeks. Just know that if I don't have a linky up, feel free to just grab the button and participate anyway. I've seen a bunch of you still do that and it's perfectly fine with me. :