Today my long time blog friend, Laura is writing for me as I journey off to Disney! I love how honest her blog is, how she walks you through her journey of motherhood so beautifully and truly. I relate to her in so many ways, and I'm really honored to have her here in my little space.
**
Hi, I'm Laura and you can normally find me over at what I consider my second home, My Thoughts - Uninterrupted. I'm a southern girl through and through, a wife to my husband Michael and a mama to my sweet little boy, Ethan who is just shy of being 19 months old. We are currently in the process of moving to East Tennessee and anxiously hoping for baby number two.
I'm so thankful that Katie thought of me when she was in need of a guest blogger. We have been reading each other's blogs long before Ethan and Emeline even graced our lives. It has been such a bonding experience to go through all of these fun and (let's be real) trying times of being first time moms together.
When my husband and I started thinking about having children, I'm not really sure what I envisioned. I'm pretty sure I envisioned them coming out as school aged children, eating peaceful family dinners together and running to and from one activity to another. I never really envisioned the beginning stages...you know, the ones where dinner is more like a battlefield and running to and from activities means carrying what seems like all of your life's possessions only to realize that you forgot something crucial when you arrive at said activity.
Yeah, that stage, I certainly did not envision.
But, I also didn't fully grasp how much I could love a child. Oh my goodness, the love. It's unbelievable. I didn't know how much having him would change me. I knew as a parent I would be responsible for teaching my child all the important life lessons, but I didn't know that he would be teaching me as well.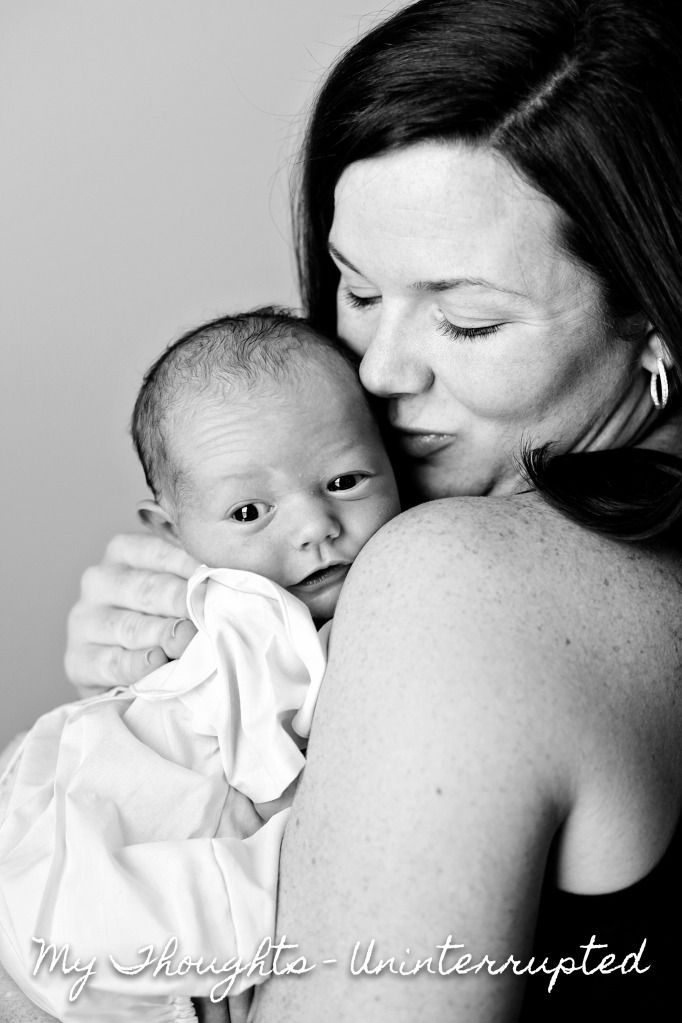 Flashback - Newborn Days 2010
I learn something daily. Whether it's how short my patience really is, or how I might say a bad word more than I really thought I did, believe me, I'm learning. It's embarrassing, but "Oh, shit!" has certainly come out of my son's mouth on more than one occasion. I'm just happy that he still doesn't speak very clearly so most people don't notice...at least not immediately. Really though, he's taught me something so much more important than the fact that my dirty mouth could really use a bar of soap. He's taught me to truly find joy in life.
I've always been one to get caught up in the nitty gritty of life. My to-do list is often longer than I can handle and I tend to freak out due to my perfectionism, but Ethan has taught me to let loose, to let things go, to simply concentrate on the joys in life. I can honestly say that nothing makes me happier than to show my child something new and different. It may be something as simple as showing him a worm for the first time, or taking him to the zoo, or seeing his face light up when he saw the ocean for the first time.
I know the "newness" of life will wear off at some point for him, but I hope that we can always find the joy in experiencing things together. I'm pretty sure the joy of seeing his face light up will never wear off for me. Seriously....there is nothing better.
Having Ethan has made me actually want to get out and do more things. I use to be one to stay in my comfort zone. Stick with what you know was my motto, but now my motto is more of a "Let's try it!" kind of attitude. We go to random local activities that we would have most certainly passed on pre-E like the upcoming Strawberry Festival and crazy things like Mule Day because we absolutely love experiencing something new together as a family. It might not be everyone's cup of tea and of course there are some things that end up on the "We will never do that again!" list, but every single experience is a memory. It's something we share together as a family. It's something that hopefully Ethan will look back fondly on one day.
I can't say enough how much I am THANKFUL for my son. There are most certainly days when I need to remind myself of this of course...like when he chooses to smear poop all over the place during nap time...but, honestly, I don't think my heart could be more full. The changes a child makes in your life aren't always easy, but they are most certainly a blessing. They give you a life enriched beyond measure.